CHALLENGES AND EFFECTS OF TECHNOLOGY IN EMOTIONAL AND PSYCHOLOGICAL DEVELOPMENT OF CHILDREN
muhammad talhah tlhah

Universiti Teknologi Malaysia, Johor

Nur Hajarul Falahi Abdul Halim Abdul Halim

Nurul Asyikin Ab Rahman
Keywords:
Challenges of Technology, Effects of Technology, Emotional Development of Children, Psychological development of Children
Abstract
The development of technology has affected many aspects of life, including psychology and emotions. While technology provides benefits and convenience in everyday life, there are also challenges that need to be considered regarding its influence on children's development. This article explains some of the main challenges faced by children in using technology, especially in terms of psychology and emotions. In addition, this article will highlight the effects that will occur and have occurred on children's emotional and psychological development as a result of excessive and uncontrolled use of technology. The study in this article will use a qualitative methodology of library methods. It was found that the uncontrolled influence of technology on children can negatively impact their ability to regulate emotions, build healthy social relationships, and develop interpersonal communication skills. These factors can affect children's emotional and psychological development in the long run. The article also provides some suggestions and strategies for dealing with these challenges. The importance of the role of parents and educators in supervising and directing children's use of technology is emphasised, as well as the need to create a balance. By understanding the challenges and impact of technology on children's emotional and psychological development, it is hoped that effective measures can be implemented to maintain health and balance in children's lives in this digital age.
Downloads
Download data is not yet available.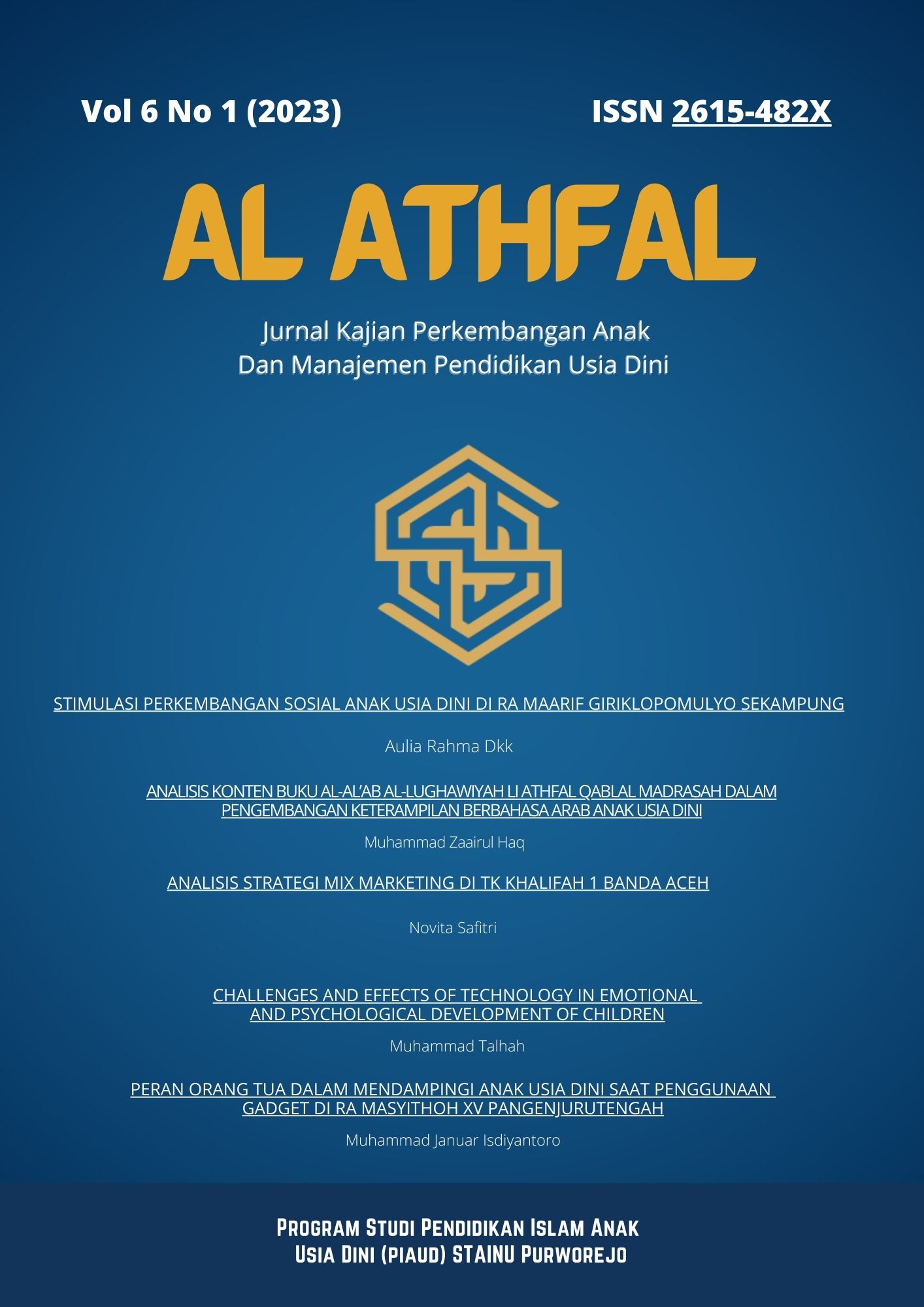 How to Cite
tlhah, muhammad, Abdul Halim, N. H. F. A. H., & Ab Rahman, N. A. (2023). CHALLENGES AND EFFECTS OF TECHNOLOGY IN EMOTIONAL AND PSYCHOLOGICAL DEVELOPMENT OF CHILDREN. Al Athfal : Jurnal Kajian Perkembangan Anak Dan Manajemen Pendidikan Usia Dini, 6(1), 43-57. https://doi.org/10.52484/al_athfal.v6i1.410