STIMULASI PERKEMBANGAN SOSIAL ANAK USIA DINI DI RA MAARIF GIRIKLOPOMULYO SEKAMPUNG
Aulia Rahma

IAIN METRO

Rindi Sartika

Siti Aisyah

Enggar Salfitri
Keywords:
Development, Social, Early Childhood.
Abstract
Social development is an important aspect to be developed in early childhood so that children can adapt to the surrounding environment. Therefore teachers must have skills in stimulating children's social development. However, from the observations made by RA Ma'arif Girikelopomulyo, the learning model used by the teacher is still monotonous, like the teacher only lectures in front. This study aims to determine the social development of early childhood in group A RA Ma'arif Girikrlopomulyo, East Lampung. This type of research uses a descriptive qualitative method. The responses in the study were all children in class A, class teachers and school principals. Based on the results of observations in this study, it shows that there are still 4 children who have not yet developed, 4 children who have started to develop, and 7 children who have developed as expected. From this it can be seen that the social development of children in group A is still relatively underdeveloped.
Downloads
Download data is not yet available.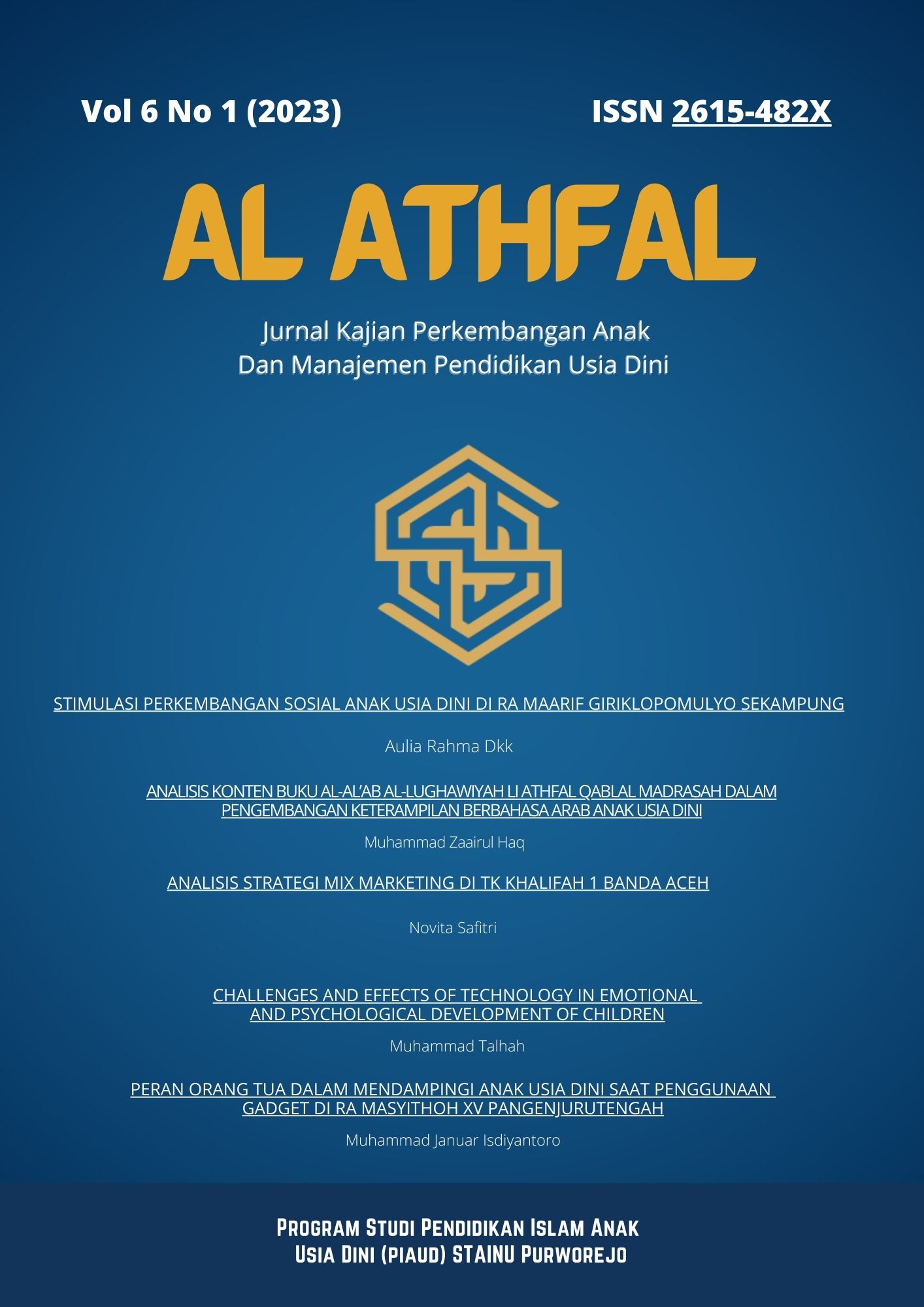 How to Cite
Rahma, A., Sartika, R., Aisyah, S., & Salfitri, E. (2023). STIMULASI PERKEMBANGAN SOSIAL ANAK USIA DINI DI RA MAARIF GIRIKLOPOMULYO SEKAMPUNG. Al Athfal : Jurnal Kajian Perkembangan Anak Dan Manajemen Pendidikan Usia Dini, 6(1), 1-10. https://doi.org/10.52484/al_athfal.v6i1.422